REPLACEMENT Detector Lamps
Expanded Offering – Premium Quality – Available Stock.  Less expensive than the original manufacturer
Thomson's 50+ years of experience in HPLC bring you pre-aligned Deuterium, Xenon and Tungsten lamps for the most popular HPLC detectors – Agilent 1100/1200 DAD & VWD, Waters 2487 and others.
Lamps are precision aligned and tested in accordance with ISO 9000 certified procedures. All lamps are certified recording the date of manufacture, serial number, tester's name and the intensity counts reading for future traceability.
We offer a comprehensive range, attractively priced!! Prices and availability subject to change without notice.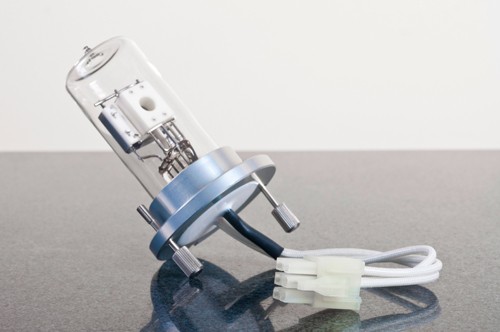 | Instrument Manufacturer | Instrument Model | OEM Part Number | Thomson Number | Price |
| --- | --- | --- | --- | --- |
| ABI | ABI, 2900-0484, 757 759 783A 785A 1000S FS980 120A 130A | 2900-0484 | 004-0005 | 419 |
| Agilent | Agilent, 79853-60002, 1050A 79853A Long Life Deuterium Lamp | 79853-60002 | 004-0007 | 410 |
| Agilent | Agilent, 79883-60002, 1040 1050C 1050DAD 1090 Deuterium Lamp | 79883-60002 | 004-0008 | 490 |
| Agilent | Agilent *OBSOLETE*, 1000 HOUR NOT AVAILABLE, USE #004-0010 | | | |
| Agilent | Agilent *NEW*, G1314-60100, 1100 VWD G1314A Long Life Deuterium Lamp | G1314-60100 | 004-0010 | 450 |
| Agilent | Agilent *New Description*, 2140-0590 2140-0605, *NEW DESCRIPTION* 8453 ONLY Deuterium Lamp | 2140-0590 2140-0605 | 004-0011 | 540 |
| Agilent | Agilent, 5181-1530 2140-0820, 1100 DAD 1200 DAD G1315A G1365A Long Life Deuterium Lamp | 5181-1530 2140-0820 | 004-0012 | 710 |
| Agilent | Agilent 1100/1200 DAD (to fit G1315/G1365 C & D series detectors) | | 004-0108 | 537 |
| Agilent | Agilent, 08452-60104, 8452A Deuterium Lamp | 08452-60104 | 004-0013 | 525 |
| Agilent | Agilent *NEW*, 1260 1290 DAD Long Life Deuterium Lamp | | 004-0105 | 430 |
| Agilent | Agilent Tungsten Lamp. G1315A,B,C,D,E G1365A,B,C,D | | 004-0107 | 175 |
| Biotage | Biotage SP1/4, Isolera D2 Lamp | | 004-0109 | 673 |
| Beckman | Beckman, 514366, DU600 620 630 640 650 6000 7000 7500 Deuterium Lamp | 514366 | 004-0017 | 540 |
| Beckman | Beckman, 538711, 168 Deuterium Lamp | 538711 | 004-0019 | 576 |
| Beckman | Beckman, P/ACE MDQ Deuterium Lamp | | 004-0021 | 576 |
| Dionex / Gynkotek | Dionex / Gynkotek, 939016T, PDA-100 PDA-3000 Long Life Deuterium Lamp | 939016T | 004-0030 | 462 |
| Dionex / Gynkotek | Dionex / Gynkotek, 6074.1110, Ultimate VWD 3000 3100 3400 Long Life Deuterium Lamp | 6074.111 | 004-0032 | 550 |
| Dionex / Gynkotek | Dionex / Gynkotek, #5053.1204, UVD 320/33/160/170S 340 DAD Long Life Deuterium Lamp | 5053.1204 | 004-0034 | 491 |
| Dionex / Gynkotek | Dionex / Gynkotek, Fluoresence Detector Xe Lamp | | 004-0035 | 425 |
| Gilson | Gilson, 100326, 115 116 117 118 119 151 152 155 156 Deuterium Lamp | 100326 | 004-0036 | 375 |
| Gilson | Gilson, 2140-0590, 170 D.A.D. Deuterium Lamp | 2140-0590 | 004-0037 | 383 |
| Gilson | Gilson, 5181-1530, 170 D.A.D. Long Life Deuterium Lamp | 5181-1530 | 004-0038 | 383 |
| Gilson | Gilson, 122 Xe lamp | | 004-0039 | 395 |
| Interchim | Interchim Puriflash PF215 PF430 PF450 PF800 PF4100 PF1 SP2 D2 Lamp | | 004-0110 | 492 |
| Jasco | Jasco, 5330-0091, 975 (B & C Series) 1570 1575 2075 Long Life Deuterium Lamp | 5330-0091 | 004-0041 | 475 |
| Hitachi - Merck | Hitachi - Merck *New LL Version*, 885-3570, 890-2430, Hitachi LaChrom L-7400, L-7420, L-7450, L-7485, L-2400LCE, L-2420LCE, L-2450, L-2455, LCE Deuterium Long Life Lamp (Also fits: U-1500, U-2000, U-2001, U-3000, U-3010,U-3310, U-4100) | 885-3570, 890-2430 | 004-0059 | 410 |
| Hitachi - Merck | Hitachi - Merck, L-2485U, L-2485, L-2480, L-7485, L-7480, F-7000, F-4500, F-2500 Xenon Lamp | | 004-0062 | 410 |
| PerkinElmer | PE Lambda 2 to 45 800 900 Bio, 55X Series LC480 D2 Lamp | | 004-0111 | 380 |
| PerkinElmer | PerkinElmer, N2920149, Series 200 UV/Vis Deuterium Lamp | N2920149 | 004-0063 | 419 |
| PerkinElmer | PerkinElmer, 203 204 MPF2A MPF3 MPF4 650 Xe lamp Deuterium Lamp | | 004-0064 | 418 |
| Shimadzu | Shimadzu, 228-34016-02, SPD10A 10AS 10AV 10AVP M10Avp Long Life Deuterium Lamp | 228-34016-02 | 004-0075 | 464 |
| Shimadzu | Shimadzu, 062-65055-05, UV Spectrophotometer Deuterium Lamp Long Life | 062-65055-05 | 004-0112 | 255 |
| Shimadzu | Shimadzu, 228-37401-00, LC2010 Long Life Deuterium Lamp | 228-37401-00 | 004-0077 | 436 |
| Shimadzu | Shimadzu, 200-81500-01 , RF1501.5301 5000 Xenon Lamp | 200-81500-01 | 004-0079 | 405 |
| Shimadzu | Shimadzu, 228-34216-00, RF540 RF535 RF551 RF500 RF10A RF10AXL Xenon Lamp | 228-34216-00 | 004-0079 | 405 |
| Thermo Scientific TSP | TSP UV100 150 200 1000 2000 3000 D2 Lamp (replaces TSP-102) | | 004-0113 | 495 |
| Thermo Scientific TSP | TSP SA6510, SP770, SP970, SP8480XR, SP8773XR D2 lamp | | 004-0114 | 319 |
| Thermo Scientific TSP | Thermo Scientific TSP, 9551-0023, SP100 200, UV100 150 200 1000 2000 3000, Focus, CE Series Deuterium Lamp | 9551-0023 | 004-0083 | 495 |
| Thermo Scientific TSP | Thermo Scientific TSP, 108052, UV 6000 DAD, Surveyor Deuterium Lamp | 108052 | 004-0084 | 495 |
| Varian | Varian, 0391615691, Vista 5000 5500 UV50/100/200 9050 Prostar 310 Long Life Deuterium Lamp | 391615691 | 004-0085 | 446 |
| Varian | Varian *NEW LL VERSION*, 0393570502, Prostar 330 DAD Deuterium Lamp | 393570502 | 004-0095 | 475 |
| Varian | Varian, 110715400, Prostar 325 335 Long Life Deuterium Lamp | 110715400 | 004-0087 | 564 |
| Varian | Varian, Prostar 340 345 Deuterium Lamp | | 004-0088 | 495 |
| Varian | Varian, Prostar 363 Xenon Lamp | | 004-0090 | 506 |
| Waters | Waters *NEW LL VERSION*, WAT080678, 486 LC Module 1 Deuterium Long Life Lamp | WAT080678 | 004-0091 | 485 |
| Waters | Waters, WAT052586, 996 2996 PDA Long Life Deuterium Lamp | WAT052586 | 004-0092 | 485 |
| Waters | Waters, WAS081142, Alliance 2487 2488 Long Life Deuterium Lamp | WAS081142 | 004-0093 | 404 |
| Waters | Waters, WAT052665, 470 474 Xe Lamp | WAT052665 | 004-0094 | 405 |