THOMSON BIOAdvantage™ Columns
High Performance Columns and Guard Systems
C18, C8 & C4 (100, 200 & 300 Angstrom) for peptide, protein and biomolecule analysis.
Unique Base Deactivated columns. Exceptional separations for amines and polar molecules.
300Å or 200Å for Peptides and Proteins.
Available in stainless steel or PEEK.  Designed to use the Direct Connect Guard System.
Thomson reverse phase columns are designed for the chromatography of peptides and proteins. They are characterized by high resolution, efficiency and peak symmetry.
Available in C4, C8 or C18 phases, 100Å, 200Å, or 300Å pore sizes and 3µm or 5µm particle sizes.
Take advantage of the better resolution, for small molecules, afforded by the high surface area, 100Å packing, or separate larger molecules on the 300Å packing. Their identical selectivity allows you to maintain the same elution order from one product to the other.
Chromatographing small proteins or peptides on a 300Å packing is conventional wisdom. But in many cases the higher surface area support would be the better choice. Now we offer an intermediate surface area with our 200Å materials.
These columns, perfect for LC/MS, provide excellent resolution without TFA or other modifiers. Or chose a modifier other than TFA, to enhance selectivity for the compounds of interest.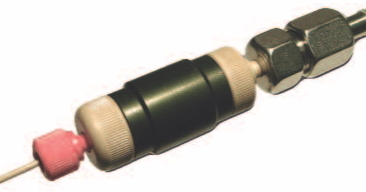 Direct Connect Guard Columns
BIOAdvantage Basic & BHS are unique materials ideally suited for chromatographing basic compounds. Compare the chromatogram of Pyridine & Phenol in 40% acetronitrile/water unmodified by TFA or other enhancing additive.
Other columns, thought to be the standard of the industry, make these compounds tail badly and require suitable modifiers to "shield" active sites on the solute or packing surface. BIOAdvantage provides distinctive peaks without additives.
Tryptic Digest of Transferrin

Synthetic Oligonucleotide
BioAdvantage Pro for Peptides and Small Proteins
BioAdvantage Pro 200 & 300Å wide pore HPLC columns are traditionally used for biomolecule analysis since the molecular radii of large peptides and proteins are better matched than with smaller pore size columns (80 – 120Å) typically used for small molecule analysis. 300Å sorbents, however, have reduced surface area, thus less capacity and selectivity than would be had with smaller pore size materials.
Thomson's new BioAdvantage Pro200, 200Å packing, presents a powerful alternative for the analysis of peptides of ~19kD and less.The chromatography of phosphopeptides (on the right) illustrates this principle. Selectivity is identical from one packing to the other.
Our 300Å phases can operate in low pH conditions and be washed at high pH. These are just some of the BIOAdvantage™ advantages.
Available in C4 and C18 phases, these columns are a perfect replacement for the discontinued Vydac® 218TP and 214TP columns.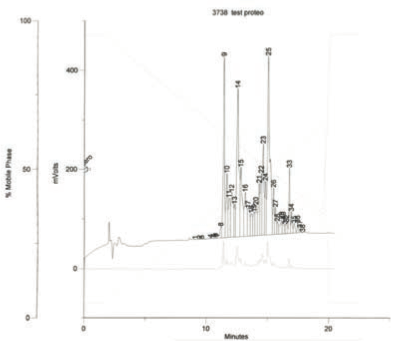 Phosphopeptides on BioAdvantage Pro200
Direct Connect Column Protection System
High performance analytical columns and cartridges require a protection device equally as efficient.
Direct Connect Guards are a highly efficient column protection device that guards the analytical column from both particulate matter and chemical contamination.
Its new, unique PEEK holder is precision manufactured to very tight tolerances and can be hand tightened to 5000 psi.
Direct connection to your HPLC column results in zero dead volume.
The holder is supplied with a tube stop depth compatible with most of today's HPLC fittings. If you need a different stop depth, it's a simple matter to change the connecting tube to accommodate your HPLC column's end fitting.
The small volumes and direct connection means performance loss due to our guard is minimal if even measurable.
They will not alter the selectivity of your analytical column.
Temperature: 80°C maximum
Pressure: ~ 5000 psi
Variance: Approximately 20µl2 at 200µl/min. This means, under isocratic conditions, some performance loss will be experienced with column ID's less than 4.6 mm.
Solvents: Compatible with most solvents. DMSO, Me2Cl2 and THF cause PEEK to swell over time. So they are not recommended for routine use.