Multimode and Aqueous/Organic SEC Columns
GS-HQ
· SEC mode is the main mode
· Multimode columns for reversed phase, HILIC, and ion exchange modes are available depending on selected eluent conditions
· Suitable for the separation od peptodes or nucleic acids with similar molecular weights
· Suitable for desalting samples or substituting buffer in protein analysis
GS-320 7E
· For the analysis of nucleic acids as "Umami" and its metabolite with isocratic elution
GS-620 7G-P
· Column to determine mean molecular weight distribution of gelatin compliant with PAGI method (ver. 10, Japan)
MSpak GS-320
· Semi-micro columns for Asahipak GS-320 HQ
· Effective fot the analysis of chemical substances in a biological sampel by column switching intended to remove proteins
· Applicable to analysis using LC/MS or ICP-MS
(Standard Columns)
Product
name
Max. usable
pressure (MPa)
Recommended
flow rate
(mL/min)
Max. usable
flow rate
(mL/min)
Max. usable
temp. (deg-C)
Usable
pH range
Shipping
solvent
GS-220 HQ
GS-320 HQ
GS-520 HQ
GS-620 HQ
GS-2G 7B

6.0
5.0
3.0
3.5
–

0.4 to 0.6
0.4 to 0.6
0.4 to 0.6
0.4 to 0.6
–

1.0
1.0
1.0
1.0
–

60
60
60
60
50

2 to 9
2 to 12
2 to 12
2 to 12
2 to 12

CH3OH/H2O=30/70
CH3OH/H2O=30/70
CH3OH/H2O=30/70
CH3OH/H2O=30/70
CH3OH/H2O=30/70
*( ): PEG euivalent
**( ): Estimated value
Max. usable organic solvent concentration:
GS-320 HQ, GS-520 HQ, GS-620 HQ : 100%(Methanol), 50%(Acetonitrile)
GS-220 HQ : 30%(Methanol), 50%(Acetonitrile)
For the analysis of nucleic acids as "Umami"
Product code

Product name
Scope of application
Size(mm)
ID x Length
Shipping
solvent
Asahipak GS-320 7E
Asahipak GS-2G 7B
Umami" (nucleic acids)
(Guard column)
7.5 x 250
7.5 x 50

CH3OH/H2O=30/70
CH3OH/H2O=30/70
For determination of the molecular weight distribution og gelatin
Product code

Product name
Scope of application
Size(mm)
ID x Length
Shipping
solvent
Asahipak GS-620 7G-P
Asaipak GS-2G 7B
Gelatin for photo film
(Guard column)
7.5 x 500
7.5 x 50

CH3OH/H2O=30/70
CH3OH/H2O=30/70
(Simi-micro columns)
Product code

Product name
Plate number
(TPN/column)
Particle size
(micron)
Size(mm)
ID x Length
Shipping
solvent
MSpak GS-320 4B
MSpak GS-320 4D
MSpak GS-320 2D

> 2,000
> 7,000
> 4,000

6
6
6
4.6 x 50
4.6 x 150
2.0 x 150

H2O
H2O
H2O
(Micro column and Semimicro columns)(Remark)
(Preparative Columns)(Remark)
(Older Columns)(Remark)
GF-HQ
· Polymer-based SEC column exhibits solvent durability
· Supports both aqueous and organic solvents
GF-310
· Semi-micro columns for Asahipak GF-310 HQ
· Effective fot the analysis of chemical substances in biological samples by column switching intending to remove proteins
· Useful for LC/MS analysis
· Suitable for the analysis of surfactants
(Standard Column)
Product code
Product name
Plate number
(TPN/column)
Exclusion limit
(Pullulan)
Particle size
(micron)
Size(mm)
ID x Length
F7600001
F7600002
F7600003
F7600004
F6710018
Asahipak GF-310 HQ
Asahipak GF-510 HQ
Asahipak GF-710 HQ
Asahipak GF-7M HQ
Asahipak GF-1G 7B

> 19,000
> 19,000
> 11,000
> 13,000
Guard column

40,000
300,000
*(10,000,000)
*(10,000,000)
–
5
5
9
9
9
7.5 x 300
7.5 x 300
7.5 x 300
7.5 x 300
7.5 x 50
Product
name
Max. usable
pressure
(MPa)
Recommended
flow rate
(mL/min)
Max. usable
flow rate
(mL/min)
Max. usable
temp.
(deg-C)
Usable
pH range
Shipping
solvent
GF-310 HQ
GF-510 HQ
GF-710 HQ
GF-7M HQ
GF-1G 7B

7.0
6.5
2.5
4.5
–

0.4 to 0.6
0.4 to 0.6
0.4 to 0.6
0.4 to 0.6
–

1.0
1.0
1.0
1.0
–

60
60
60
60
60

2 to 9
2 to 9
2 to 9
2 to 9
2 to 9

CH3OH/H2O=30/70
CH3OH/H2O=30/70
CH3OH/H2O=30/70
CH3OH/H2O=30/70
CH3OH/H2O=30/70
*( ): Estimated values
Usable solvents
Water with salt

0 to 0.5M

Yes

Acetone

0 to 100%

Yes

Methanol

0 to 100%

Yes

Chloroform

0 to 100%

Yes

Ethanol

0 to 100%

Yes

Ethyl acetate

0 to 100%

Yes

Acetonitrile

0 to 100%

Yes

DMSO

0 to 50%

Yes

THF

0 to 100%

Yes

DMSO

51 to 100%

No

DMF

0 to 100%

Yes
(Semi-micro columns)
(Micro column and Semimicro columns)(Remark)
(Preparative Columns)(Remark)
(Older Columns)(Remark)
Although Asahipak GS-HQ series is basically SEC columns, they permit different types of separation and analysis from conventional ones by use of a multimode which combines the hydrophobic interaction (RPC) and ionic interaction (IEX: ion exclusion). The GS-320 HQ column performs well in separating hydrophillic peptides, particularly acidic and basic peptides. As the columns can be used over a wide range of eluent pH because of being polymer-based column, they can be washed with alkaline solution leading to a longer column life, which is another feature of the column.
Sample : 20micro-L
1. Glu-Ala-Glu 0.025%
2. Arg-Asp 0.05%
3. Gly-His-Lys 0.025%
4. Arg-Pro-Lys-Pro 0.025%
| | MW | pI | Σf |
| --- | --- | --- | --- |
| Glu-Ala-Glu | 347 | 3.12 | 0.39 |
| Arg-Asp | 289 | 6.75 | 0.68 |
| Gly-His-Lys | 340 | 9.95 | 0.29 |
| Arg-Pro-Lys-Pro | 497 | 11.44 | 3.24 |
pI : Isoelectric point
Σf : Hydrophobic parameter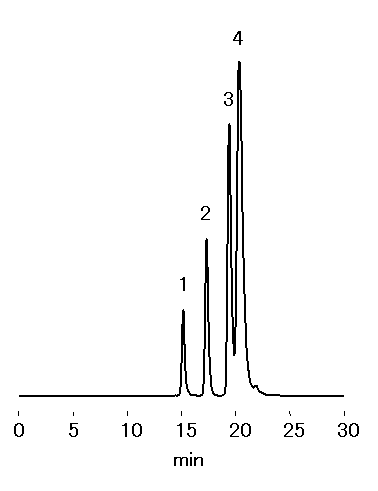 Column       : Shodex Asahipak GS-320 HQ (7.5mmID*300mm)
Eluent       : 50mM Ammonium acetate buffer(pH6.7)
Flow rate    : 0.5mL/min
Detector     : UV(220nm)
Column temp. : 30deg-C
Asahipak 
GS-320 HQ
 is a column which operates basically in SEC mode. However, depending on the eluent conditions, it allows separation by multiple modes combining reversed phase and ion exchange modes. The column is particularly effective in analyzing samples such as proteins and nucleic acid components, which are made up of both acidic and basic components. In this separation mode, samples are eluted in the order of acidic, neutral and basic. Separation can also be adjusted by changing the eluent components.
1) When a neutral/acidic eluent is used.
| | |
| --- | --- |
| Acidic samples | As it is the ion exclusion mode which is in operation, substances are eluted relatively quickly. |
| Neutral samples | As substances are separated by reversed phase mode, they are eluted moderately. |
| Basic samples | As it is the ion exchange mode which is in operation, substances are eluted relatively slow. |
2) When a basic eluent is used.
| | |
| --- | --- |
| Acidic samples | Basically, substances are excluded together at the Vo position but, with acidic samples of large molecular weights, there are cases in which substances are retained in the column. |
| Neutral samples | Substances are separated by reversed phase mode. |
| Basic samples | If the eluent has a higher pH than the pKa of the sample, substances are separated by reversed phase mode as the dissociation of basic samples is suppressed. |
As the eluent for Asahipak GS-HQ series and GF-HQ series, either organic solvent or aqueous solution can be used.
Organic solvents: Please refer to Multimode Columns and Aqueous/Organic SEC Columns.
Aqueous solutions: Please refer to the followings:
1. Strong electrolytic salts
Total salts concentration should be 0.5 M or less. Aqueous solutions of NaCl, KCl, Na2SO4, K2SO4, (NH4)2SO4 and other such salts may be used as eluents. Phosphoric acid, acetic acid, citric acid, boric acid, and tris-HCI buffer solutions may also be used, either independently or in combination with these salts.
2. Aqueous uric acid and guanidine hydrochloride
These solutions are widely used as protein denaturalization agents. As their concentration is generally high, it is recommended that they be used in columns set aside exclusively for this purpose, as their frequent interchange with eluents of lower concentration would tend to shorten the column service life.
3. Use of surfactants
Aqueous solutions containing SDS, Brij-35 or other surfactants can also be used as eluents. The eluent interchange time following the use of such an eluent will generally be longer than for ordinary eluents. Approx. 50% methanol may be used to shorten the replacement time.
4. Solutions with high salt content
After passage of a high-concentration salt solution, its removal from the flow lines by flushing with water is sometimes necessary to prevent salt precipitation at the pump and the injector. In such cases, column life is best preserved by first removing the column, before flushing the LC system flow lines.