On-line Surfactant Removal (MSpak PK&GF)
Asahipak GS-520 7G, a multimode column, separates proteins by GFC mode. However, serum albumins such as bovine and human albumins are eluted slowly because the albumins have affinity with the molecular structure of poly(vinyl alcohol) gel which is packed in GS-520 7G. Therefore, albumins can separate with components of similar molecular weight. Here, albumin is separated with tranferrin, IgG, IgM and IgA. With PROTEIN KW-800 series, albumins and transferrin cannot be separated because their molecular weights are too close to be separated by GFC mode.
GS-520 7G is an old type of GS-520 HQ.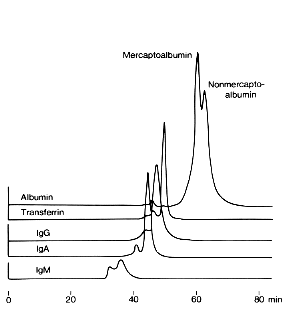 Sample :
Albumin
Transferrin
IgG
IgA
IgM
Mercaptoalbumin
Nonmercaptoalbumin
Columns      : Shodex Asahipak  GS-520 7G (7.5mmID*500mm) x 4  
Eluent       : 0.1M Sodium phosphate buffer(pH7.0) + 0.3M NaCl
Flow rate    : 1.0mL/min
Detector     : UV(250nm)
Column temp. : 30deg-C