Effect of Eluent pH (ODP)
A sample of different proteins and peptides was separated with a various pH values of the eluent. Under acidic conditions (pH2.3, pH3.0), Leu-Enkephalin and Leu-Trp-Met have been strongly retained and the elution times for the substances are quite similar; therefore, the separation is not satisfactory. In contrast, when an alkaline according to the fact that, under alkaline condition (pH10) with Asahipak ODP column, a better separation with sharper peaks of the substances has been obtained in a shorter time. In addition, ODP columns have higher theoretical plate numbers under alkaline conditions.
Refer to Analysis of Oligopeptides with Acidic and Alkaline Eluent.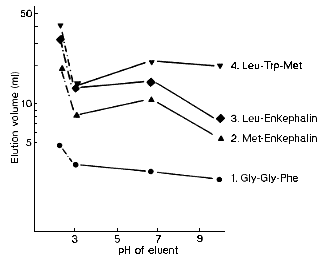 Sample :
1. Glu-Gly-Phe
2. Met-Enkephalin
3. Leu-Enkephalin
4. Leu-Trp-Met
Theoretical plate number
| | | | | |
| --- | --- | --- | --- | --- |
| No. | pH2.3 | pH3 | pH6.7 | pH10 |
| 1 | 6100 | 1100 | 3800 | – |
| 2 | 7400 | 1100 | 4700 | 5700 |
| 3 | 7600 | 600 | 3800 | 6700 |
| 4 | 6100 | 500 | 2400 | 8000 |
Column       : Shodex Asahipak ODP-50 6D (6.0mmID*150mm)
Eluent       : buffer/CH3CN=85/15
               (pH2.3)  0.05% TFA aq.
               (pH3.0)  50mM Acetic acid aq.
               (pH6.7)  50mM Ammonium acetare buffer
               (pH10.0) 50mM Ammonium acetare buffer
Flow rate    : 1.0mL/min
Detector     : UV(220nm)
Column temp. : 30deg-C