Eluent Degassing Device: DEGASSER ERC-3215alpha, 3415alpha
The ERC-3000alpha series efficiently remove dissolved gases in the eluent.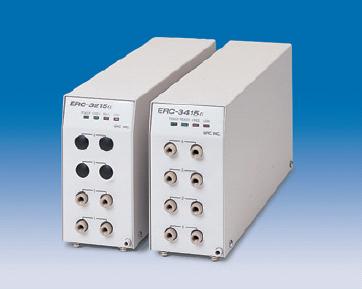 (Features)
· Pressure sensor and leak monitor assure high degree of safety.
· Dead volume is minimized to 7mL/channel.
· Any pump can be used since differential pressure is low .
· Continuous degassing mode aids eluent preparation for high-sensitivity analysis.
· EMC and LVD compliance, with CE marking

(Degassing Principle)
A special synthetic membrane (degassing menbrane) is used to selectivety remove dissolved gasses ; using the characteristics of tne small molecular size of the dissolved gas with high mobility and affinity to the menbrane.


(1) Membrane degasser
(2) Vacuum chamber
(3) Pressure sensor
(4) Control board
(5) Three-way solenoid valve
(6) Vacuum pump
(7) Eluent
(8) Feed pump to outlet

(Specifications)
| | | |
| --- | --- | --- |
| Producto code | Y4617000 | Y4617004 |
| Model | ERC-3215alpha | ERC-3415alpha |
| Solvent channels | 2 channels | 4 channels |
| Weight | ca 5.1kg | ca 5.5kg |
Degassing Capacity

When ion-exchanged water saturated with air at 25deg-C is put through at a flow rate of 3mL/min,
no bubble is observed at the outlet of the apparatus.
(Measured dissolved oxygen level at the outlet : 2ppm at flow rate of 3mL/min)

Internal volume

7mL/channel

Max. flow rate

20mL/min for each channel (Eluent: 25deg-C pure water)

External output

An open connector signal is delivered to the external output signal terminal,
When "PRES" and "LEAK" LEDs light.

Dimensions

W71 x D310 x H136 (mm)

Power source

AC 100 to 240 V, 50/60Hz
Functional
Displays

Power On/Off display

"POWER" LED lights, when the power is supplied.

Status monitoring
function

"READY" LED lights, when the internal pressure in the vacuum chamber
is below a predetermined limit.

Pressure monitoring function

"PRES" LED lights, when the internal pressurein the vacuum chamber
does not reach a predetermined level within a predetermined time.

Leak monitor

"LEAK" LED lights, when the liquid leaks in the apparatus.

Self cleaning

The vacuum line is cleaned by air suction.

Vacuum pump operation
switching function

NORM.: Controlled operation in normal run
CONT.: Cntinuous operation in case og high degree of degassing degassing
For the special solvents, such as fluorinated organic solvents, please contact Shodex or our destributors near you.
DEGASSERis the registered trademark of E.R.C Co.,Ltd.